Almost Chicken Veronique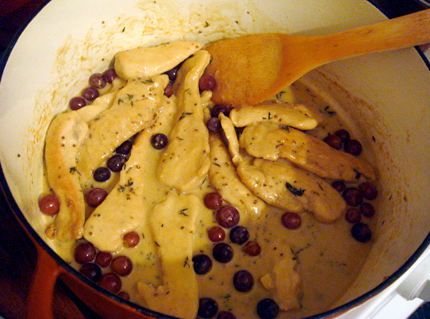 Here's another tried and tested recipe. I've been making this for years, ever since I saw it on Rachel Ray's 30 minute meal show. I love anything sweet and savory and if it calls for cream even better! I love how the red grapes off-set the tanginess of the stone-ground mustard based sauce. It kind of reminds me of Chicken Francais but with a little more ooomph. A definite must-try. It's perfect over cous cous or black wild rice (as served here).
You'll need:
2 tablespoons extra-virgin olive oil
1 tablespoons chopped fresh thyme leaves, stripped from 6 to 7 sprigs
Coarse salt and pepper
2 tablespoons butter, cut into pieces
1/4 cup all-purpose flour, eyeball it
2 pounds chicken tenders
1/2 cup white wine, eyeball it
1/2 cup chicken stock
1 cup heavy cream
1/4 cup grainy, stone-ground mustard
1 1/2 cups, about 1/2 pound, seedless red grapes, halved
step 1. Heat a large skillet over medium to medium high heat; add 2 tablespoons extra-virgin olive oil, 2 turns of the pan, and 2 tablespoons butter to the pan.
step 2. Place flour in a shallow dish.
step 3. Season chicken with salt and pepper then dredge the tenders in flour and add it to the pan.
step 4. Cook chicken 7 to 8 minutes until browned. I had to do a double batch so I placed the cooked ones on a paper towel. Transfer all of the cooked chicken back into the pan and add wine and scrape up browned bits as wine cooks down and bubbles, 30 seconds. You'll notice that the sauce will start to thicken once the alcohol evaporates. The flour coating on the chicken actually helps thicken the sauce, creating somewhat of a roux.
Add 1/2 cup stock and thyme to skillet.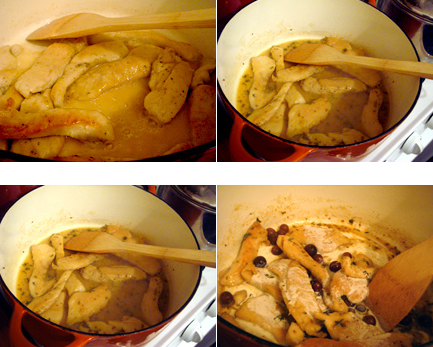 step 5. Combine cream and mustard and add to stock. Add grapes to the pan and turn chicken and grapes to coat and combine with the sauce. Simmer 5 minutes over low heat.