Bread Pudding
Bag of sliced bread about to hit the trash? Hold up…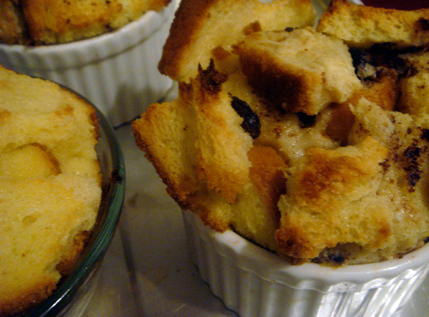 This is one of my favorite desserts to make – simple, comforting and very very easy to make.
serves 3
6 slices of hearty white bread (I recommend Arnold's or Pepperidge Farm)
2 eggs
3 tablespoons of butter, extra for buttering ramekins
1/2 cup whole milk
1/2 cup heavy cream
1/4 cup granulated sugar
cinnamon
It's not essential but if you remember, leave out the slices of bread overnight or even in the morning. I usually use Pepperidge Farm white bread but I've recently discovered the Arnold brand – it's a little thicker and works very well. I used about 6 slices of bread, torn into 1 1/2″ pieces. Cut up 3 tablespoons of butter into small cubes and set aside.
Preheat oven to 350 F.
Mix 2 eggs and about 1/4 cup of white sugar with a hand blender. Add a teaspoon of vanilla extract. Slowly add 1/2 cup of heavy cream and 1/2 cup of milk.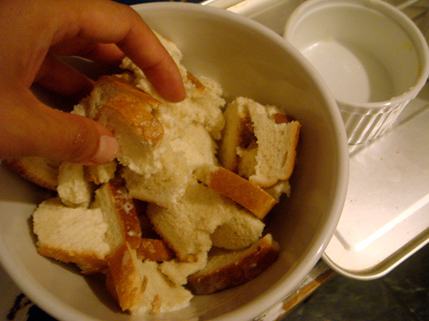 Pour half of the mixture over the torn pieces of bread, carefully toss as you pour so the liquid is evenly distributed. You don't want to soak the bread, just a little moist.
Butter the ramekins (I had three) and begin to layer bread, sprinkle some cinnamon and add as many raisins as you want. You can leave the raisins out. Top off with one or two butter cubes. Add another layer of bread, cinnamon, raisins if using and butter. Top with a layer of bread (it's better if the pieces are more dry than wet) and a couple of butter cubes. Pour pudding mixture over the whole thing – don't be shy with the amount.
Bake for about 40 minutes. It puffs up nicely then unfortunately slowly depuffs.
You can serve this warm or cold (so good the next day). I prefer it cold from the fridge. It doesn't really need a topping, but if you feel inclined to do so – a little fresh whipped cream or a drizzle of warm cream would do the trick!
There are so many variations with this recipe – you can use honey as the sweetener, add instant chai mix or instant espresso powder to the pudding mixture. The possibilities are endless.