Eggs and Tomatoes
Simple. Quick. Anytime meal.
This one is definitely a personal fave and once I make it, I have a tendency to want it everyday.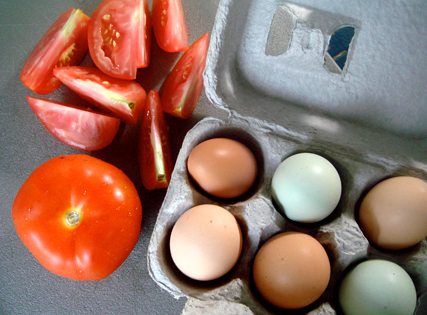 Again, I don't recall the original source of this recipe (so if you're out there please let me know and I will definitely give you proper credit!) Anyway, I love eggs and tomatoes, add some onions and yumm! I'm guessing all cultures have some sort of egg+tomato dish – here's a really easy one (not really sure what cuisine this falls into).
Slice up 2 riped tomatoes.
Beat 6 eggs.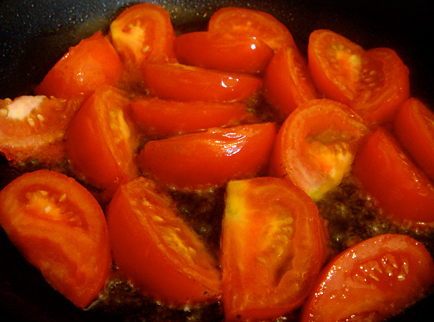 Cover the bottom of a pan with olive oil and heat up oil. Cook tomatoes until tender (I like it when the sides darken up). Make sure you sear both sides and be sure to season well with salt. Most Filipinos will add fish sauce at this point. Pour in the eggs once you're happy with the tomatoes.
With a spatula, mix the egg and tomatoes (before the egg cooks) so that you end up with chunky scrambled eggs. Don't overcook the eggs. I can eat this for breakfast, lunch and dinner.
I also make a version with sunny side up eggs. Instead of beating the eggs first, make some space in between the tomatoes and drop in the eggs. Lower the flame so the egg cooks without burning the bottoms. You can also finish the dish in the oven. Fresh parsley goes really well with this version of the dish.