St. Patties Hangover Fix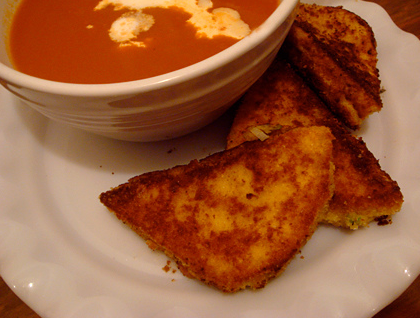 You'll need:
8 slices of hearty sandwich bread
1/2 – 1 cup of breadcrumbs
1/2 pound of serrano ham (I just used deli ham)
1 cup grated manchego cheese
2 tbs minced scallions (white part only)
1 tsp dijon mustard
2 eggs
2 tbs milk
olive oil
a pinch of dried thyme
freshly ground black pepper

step 1. Combine cheese, scallions, mustard, thyme, pepper to taste and 2 tbs of oil. Mix in one of the eggs.

step 2. Remove crust from bread and slice diagonally. Spread the mixture on one half (4) of the bread slices. Top with ham and place other half of bread on top.
step 3. Mix remaining egg with milk in a shallow bowl. Dip each sandwich in egg, making sure you get all five sides. Dredge each sandwich in bread crumbs.
step 4. Heat up 2 tbs of olive oil and fry sandwiches (*I had two batches) until nicely browned (2 – 3 minutes each side). It's a little tricky, but try to brown the sides as well by carefully standing each one on its sides.
*I wiped the pan with a paper towel and added new oil before I started my second batch.