Healthy Parfait
I thought I'd lighten things up here a little bit – but don't get used to it! I'm generally heavy-handed when it comes to sugar, butter, salt… basically anything "bad" for you.
The berries were looking so good at the market and I just couldn't resist. I don't know about you but I wish blackberry seeds weren't so darn tough. But then again, if blackberries were seedless, I'd probably demolish a pint in 3 seconds.
I love the ready-made berry parfaits from Whole Foods, but instead of using heavy cream/whipped cream I bought a tub of my favorite Greek yogurt Fage (I attempted to make my own but failed, take III this weekend). It was actually pretty good and got Hillsy's seal of approval!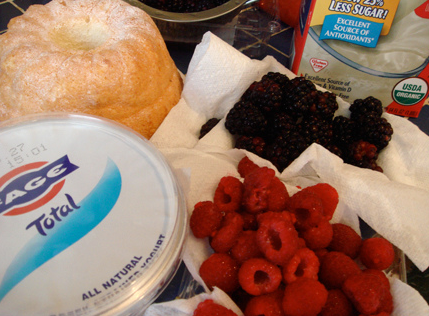 I also found Angel cake from Trader Joe's – fat free. Anything that says fat-free usually scares the beejesus out of me, but this was surprisingly good. A less healthy alternative would be lady fingers or another type of cake.
Just layer the cake, yogurt, honey, fruit until you reach the top. I drizzled in some soymilk and regular milk to moisten the cake a bit and an extra bit of honey on top. It probably helps to make these ahead of time so the fruit's natural juices have time to seep into the cake.