Chicken Marbella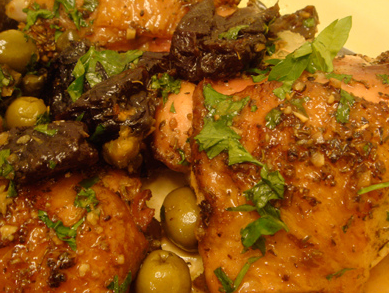 I think this is one of those dishes that you either LOVE and can eat every week or hate. PLEASE don't be put off by the prunes coz I for one HATE prunes but this dish is soooooo good. I like to eat it with a mound of couscous.
I was introduced to this dish by the lovely P, who also hooked me up with bacon wrapped dates!! Oooh gotta make those again…
Refer to the recipe for full list of ingredients and how-to.
I've had it both – marinated overnight and marinated for 4 hours. Obviously the longer the better but I thought the 4 hour one was decent enough, but if you can, definitely go for the overnight technique.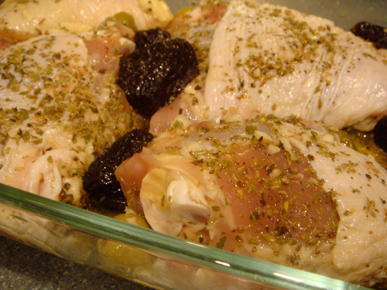 Combine the olive oil, vinegar, prunes, olives, capers and juice, bay leaves, garlic, oregano, and salt and pepper to taste. Toss in chicken, mix and marinate overnight.
Preheat the oven to 350 degrees.
None of the recipes that I used as a guide said anything about browning the chicken before putting in the oven – but I was compelled to pan fry the chicken skin side down. I just prefer my skin crunchy and I obviously don't mind running an extra mile for it. Be careful if you do choose to get your crunch on – make sure to dry off the chicken with a paper towel or else you'll get oil all over your stove + backsplash + floor 🙂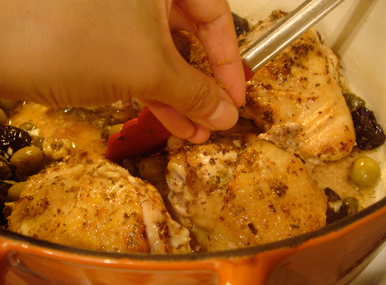 I then transferred the browned chicken and the marinade (didn't add all of the liquid) into my cast iron pot. Poured in the wine and sprinkled the chicken with the brown sugar.
Bake for about 50 to 60 minutes, basting two or three times with the pan juices once the chicken begins to brown. Careful not to brush off the sugar when basting.
Transfer the chicken pieces to a serving platter and top with the prunes, olives and capers. Place the pan/pot over medium heat and bring the pan juices to a boil. Reduce to about ½ cup. Strain into a heatproof bowl, add the parsley and pour over the chicken.