BBQ Chicken Pizza
You'll need:
Ready-made pizza crust (or you can buy pizza dough, make your own, whatever you have time for)
2 cups of cubed chicken breast fillet
1 cup each of shredded mozzarella and smoked gouda cheese
1/2 big red onion, sliced in rounds
olive oil
1/2 cup of your favorite store-bought BBQ sauce
small handful of fresh cilantro

Prep: Preheat oven to 450F degrees. Cube chicken and season with salt and pepper, shred cheese and slice onions.
Heat up a non-stick skillet and add about 1 tbs of olive oil (heat up). Add chicken and quickly toss around – just when you see that the pink is almost gone, add in the BBQ sauce and cook for another minute or two. Remove from heat and allow to cool down a bit.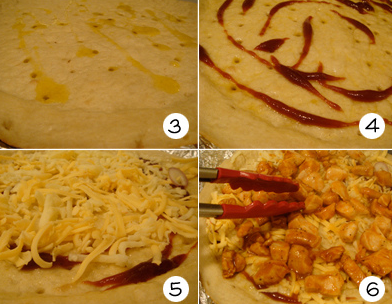 In the meantime, take out your ready-made crust and drizzle the top with a little bit of olive oil, brush or use your fingers to spread it evenly. Drizzle a little bit of BBQ sauce on top. Top with 1/2 of the cheese, add chicken, then sprinkle the rest of the cheese over the chicken.
note: The crust that I used had tiny little holes so I made sure to put the whole thing on top of a sheet of foil, first time I made it – the olive oil dripped through and made a mess.
Top with sliced onions and another drizzle of BBQ sauce. Lower temperature to 425F degrees. If you don't have a pizza stone, you can use a large baking tray. I just turned it over and used the bottom – so it was nice and flat (see pic 8). You can also turn over and use the bottom of a large cast iron pan. Bake for 10 mins. I like to turn the heat back up to 450F degrees at the 7 minute mark.
Remove from oven and top with fresh cilantro (coriander). Unlike parsley – both stems and leaves can be used.