Stove Roasted Potatoes
You can use any variety as long as they're small. They have to be small or they won't cook through before the butter burns (approx 20 mins).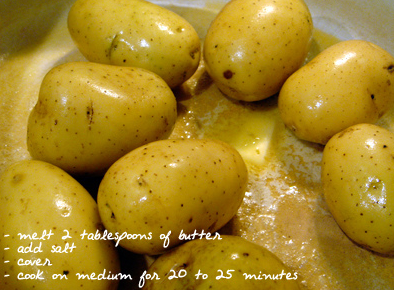 You need a cast iron pot with a lid. Heat up 2 tablespoons of butter (if you're using unsalted, make sure you take that into account when seasoning). Toss in potatoes, skin on. Make sure you put the lid on. Shake the pot to mix – sorta like making popcorn. Shake the pot every 5 minutes or so. The heat should be at medium.
At the 20 minute mark, carefully open the pot, pierce a potato – it should go all the way through but still feel a little firm. Once you feel like they're ready, turn off the heat, sprinkle more salt and add fresh herbs like dill, parsley, or chives – whatever you want.