Beer Can Chicken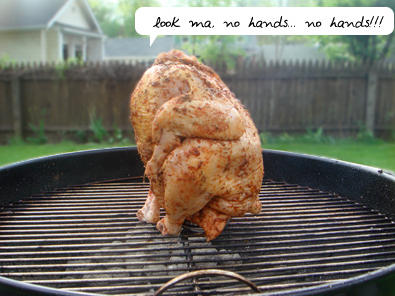 If you find yourself totally bored on a Sunday afternoon and you happen to have a grill, a 5lb bird, a can of beer or soda and couple of spices… boy do I have the perfect project for you!!!
I can't take credit for this one, the boy came up with this one all on his own (the idea to actually do it, not the recipe). The chicken came out VERY VERY juicy. The texture is similar to steamed chicken or what I would imagine Sous-vide chicken would be like.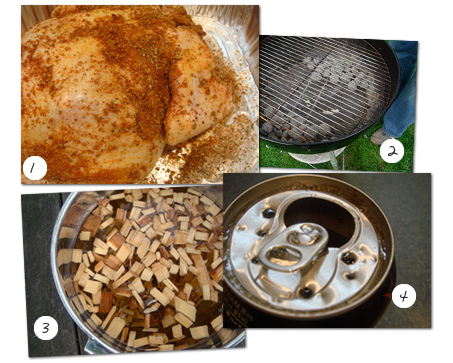 Soak flavored wood chips (we used Hickory) over night or for at least 5 hours. Make sure your grill is nice and hot. Distribute coals to the sides as opposed to the middle.
Cover the bird with 1 cup of your favorite dry rub (I used a mixture of salt, pepper, cayenne, paprika, cumin).
We used an empty soda can and I punctured extra holes on top with one of my cooking thermometers – this allows for more beer/soda steam. More steam, the juicier/tastier the meat gets. Use about 3/4 can of liquid. We used a mixture of beer and 7up. Our neighbor suggests using a can of Coke – I like the sound of that!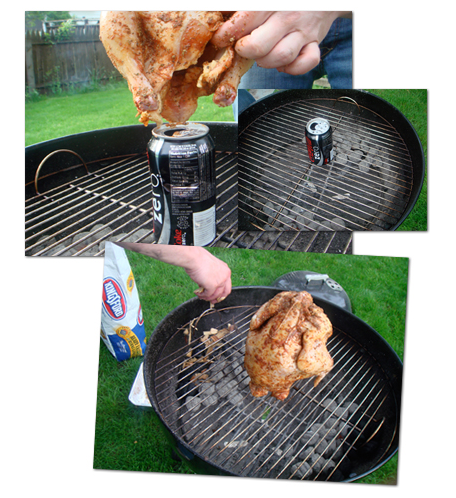 The hardest part is getting the can inside the cavity and balancing the whole thing on top of the already HOT grill without burning your hands off. I suggest sitting the bird on top of the can on your kitchen counter then VERY carefully transferring it to the hot grill (obviously holding the can in place with one hand, as you walk it to the grill). As opposed to the way we did it here.
Cooking time is approximately 2 hours. After 1 hour, check on the bird and add more woodchips. Cook for another hour or until it reaches 170F degrees (thickest part).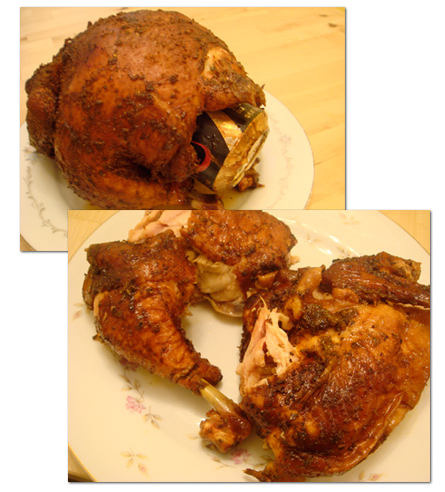 Remove from grill and allow to rest for at least 10 minutes before carving. Oh and don't forget to remove the can.