Sea Bass with Red Wine Reduction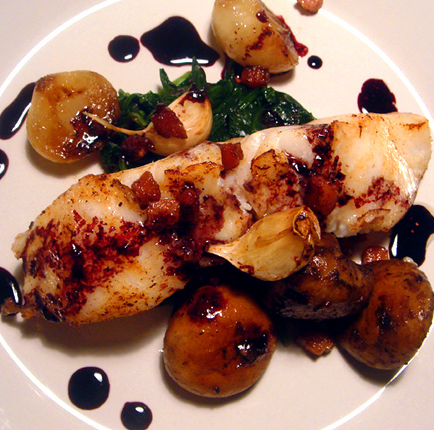 You'll need:
2 fillets (5 oz each) Chilean Sea Bass or Halibut
1/3 cup pancetta cubed
3 -4 shallots unpeeled
6 white button mushrooms (whole)
4 cloves of garlic unpeeled
2 cups of red wine
2 tbs unsalted butter
4 tbs olive oil
package of pre-washed spinach
~ 2 tbs of water or more for spinach
course salt and pepper to taste
This dish can be broken down into 4 elements:
1. Pancetta & Vegetables
Blanch shallots (skin on) in boiling water for 2 minutes. Remove skin and set aside. Cook the pancetta until crisp and set aside. In the same pan, add 2 tbs of olive oil and sauté shallots, garlic and mushrooms until tender. You want the shallots to caramelize. Set aside and try to keep warm. Season with salt. Don't add salt while cooking because it will draw out the moisture from the mushrooms and make the whole thing too watery to "grill". All in all, it probably took 10-12 minutes to get the vegetables nice and tender.
2. Wine Reduction
In the meantime, boil 2 cups of red wine in a small pot until it's reduced to 1 cup. Pour the reduced wine into the pan used for the veggies and deglaze the pan. Scrape the bottom and sides. You'll notice that the wine will start to thicken. Set aside.
3. Fish
You can also use Halibut. Heat up 2 tbs of butter and 2 tbs of olive oil. When it starts to foam up, place salted and peppered fillets in the pan. Cook each side for about 3 minutes or so (4 minutes for thicker cuts), be careful not to over cook. Cook spinach while fish is cooking.
4. Spinach (Cook while the fish is cooking)
I used an entire package of pre-washed spinach. Put a couple of tablespoons of water in the pan with th spinach. Turn the heat up to high and shake it until the spinach starts to wilt. Throw in a pinch of salt, you'd be surprised how quickly it cooks. Drain well. Pile a small mound in the centers of each serving plate.
How to assemble the dish:
– Place fish on top of the spinach.
– Spoon over vegetables on top of the fish.
– Drizzle the wine sauce around and on top of fish and veggies.