Chicken Caldereta
So here's my version of Chicken Caldereta. Caldereta is traditionally cooked with lamb, but since I hate lamb I made it with chicken. The chicken is slowly braised in a tomato-based sauce with potatoes, red bell peppers, green olives, and garbanzo beans.
You won't believe how many different versions there are of this recipe floating around out there – so I decided to give my sister Cheryl a call for some basic tips and just basically winged it.
——————————————————————————————-
NOTE: I believe it's one of the cornerstones of Filipino cooking… like butter to the French. Fortunately, it's readily available in most supermarkets. You'll most likely find the THAI KITCHEN brand in the Asian/international aisle. Honestly, this is my favorite brand/kind because it's a lower grade fish sauce and a lot milder and smells less like fermented fish – the main reason most are so turned off by the stuff in the first place. So if you're new to the world of fish sauce, definitely start with this one! Once you have a bottle of this stuff, you're pretty much ready to roll.
I think Filipino food gets better as it marinates in its own juices – so if you can wait until the next day to serve it, do so. If not, enjoy the leftovers – it's even better the second time around.
Most Filipino dishes start off with onions and garlic and a splash of patis (we use this stuff like salt). Interestingly enough, the addition of ginger to any dish automatically turns it into another well known dish!
——————————————————————————————-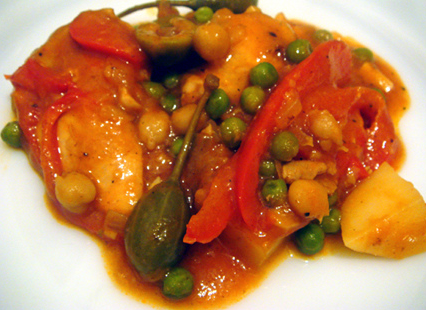 You'll need:
– a small package of chicken thighs (4 or 5 pieces) bone-in, boneless, skinless – whatever you prefer
– 1/2 can of garbanzo beans
– 1 cup of chicken broth
– 1 8 oz can of tomato sauce
– 1 1/2 tbs of tomato paste *optional but it does make the sauce thicker
– 1 tbs of white vinegar plus 1 tsp
– 2 tbs of patis (fish sauce) or more depending on your taste buds
– 1/2 onion, chopped
– 2 cloves of garlic, chopped
– 1 potato, peeled and cut into fairly big cubes
– 1/2 carrot, cut into 1/4 disks
– 1 red bell pepper, cut into strips
– 6 or so large green olives cut in half
– 1 dried bay leaf
– 1 tbs of ketchup *optional
– 4 or 5 caper berries *optional (definitely NOT a Filipino ingredient but I thought it would be a nice addition)
– handful of frozen peas *optional
– salt and freshly grounded pepper
– 1 tbs canola oil (you can use olive if that's all you have)
step 1. Prep all of the ingredients above (i.e. cut veggies)
step 2. Wash and drain chicken. Season both sides well with salt and pepper. Drizzle one teaspoon of white vinegar over the chicken and allow to sit for 5 minutes.
step 3. In a fairly large pot, heat up oil and brown both sides of the chicken. Don't worry about the chicken not being cooked all the way through, it will have plenty of time to cook later. Remove from pot and set aside.
step 4. Add onions & garlic to the pot and sautée for 5 minutes until translucent. Add a dash of salt, pepper, and patis. Add bay leaf.
step 5. Add potatoes, carrots peppers and olives (caper berries, if using) and stir for another minute or two.
step 6. Add tomato sauce (and tomato paste if using) stir well. Add another dash of salt and patis.
step 7. Add chicken broth and stir. Taste to see if it needs another dash of salt and patis.
step 8. Add chicken back into the pot. Add garbanzo beans. Lower heat and allow to simmer for 30 minutes or so until potatoes are fork-tender. Don't worry about overcooking the chicken – it will be moist no matter what because of the sauce.
step 9. Taste to see if you've got the seasoning right. At this point you should've used up all of the measured patis (if not more). Add the ketchup, I know it sounds strange, but it gives it a slight tanginess/sweetness. Make sure you've added enough black pepper. Crushed peppercorns works best
step 10. Add the peas if using and boil for another 5 to 10 minutes. Serve over rice.