Pulled BBQ Pork Sandwiches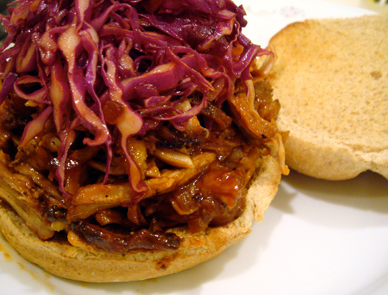 I am addicted to this stuff. I made it on Sunday, had it for dinner, had leftovers last night and seriously thinking about making myself a sandwich for breakfast…
I recommend using pork butt (about 4lbs), I've tried this with a shoulder cut but the butt definitely reigns supreme. Such an odd statement – just can't help but giggle.
I think the key is slow cooking the pork for as long as you can. Oh and I also brined the pork for about an hour using about 3/4 cup coarse kosher salt + 3/4 cup sugar + 1 tbs black pepper and about 3/4 gallon of cold water. I used a big pot and just filled it up with water so that the entire piece was submerged. After the hour, I drained the water, washed the pork, strained it for an hour then dried it with paper towels.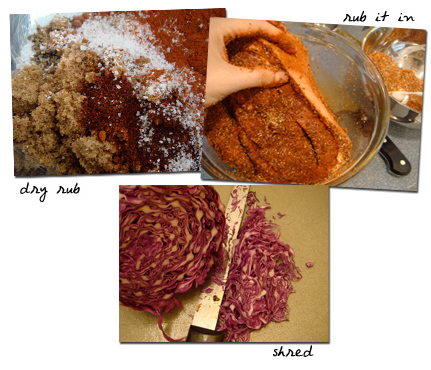 Preheat oven and baking pan at 300F
Combine about 1/2 cup brown sugar + 1/2 cup kosher salt + 1/2 to 1 tablespoon of cayenne or chili pepper. I've also added paprika before (as the picture above suggests) but this time I kept it fairly simple. Rub this dry mixture all over the pork. Place pork on baking pan and turn on your timer for 4.5 hours. It's a set it and forget it type of thing.
If you're feeling up to it, you can try making your own bbq sauce. I was too lazy this time around so I just used a store-bought kind. You'd be surprised at the selection, there were tons to choose from. I chose "Baby Ruths" – the award winning marketing copy got me!
It's so good with a simple red cabbage slaw – shredded cabbage + a spot of mayo (way less than you would ordinarily use for traditional slaw) + bbq sauce. Just eyeball everything – you can't really go wrong. You can add a dash of salt and pepper.
Once the time is up, remove the pork and allow it to cool down for 10 minutes or so. The meat should be really tender and easy to pull apart using two forks.
Mix pulled pork + bbq sauce. You can use any bread but I like it on a Kaiser type of roll – top with red cabbage slaw!!