Grilled Tilapia with Chimichurri
Another quick and tasty meal. I used frozen tilapia fillets I bought from the supermarket. Thawed and marinated in a couple of tablespoons of Chimichurri for an hour or so. Make sure the grill is nice and hot. Cook each side for approximately 4 minutes – the amount of time really depends on the thickness of your fillets. Try not to handle the fish before it's ready to be turned, specially if you're using a thinner cut fish – it's breaks apart easily. A basic guideline – once it turns opaque, it's ready to be turned.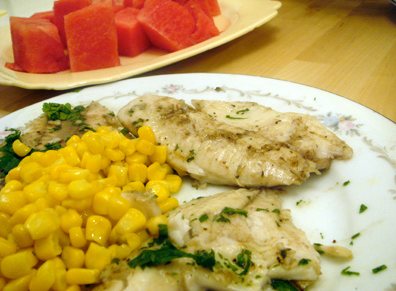 Top with an extra dallop of Chimichurri sauce. I served it with buttered corn and refreshing watermelon slices.